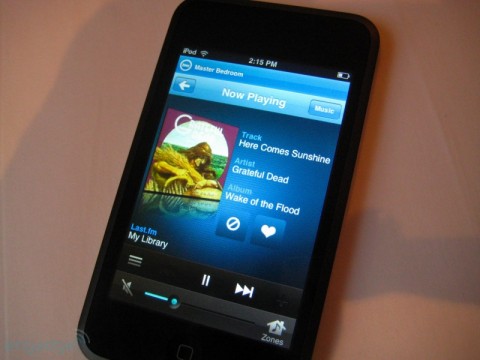 The Sonos Controller for iPhone 3.0 is now available as an update on the Apple App Store.
The free upgrade brings all of the features of the Sonos CR200 Multiroom Music System Controller
to the iPhone controller for the Sonos BU250 Multiroom Music System
. One of these features includes the "Info View" command. This new feature (accessed using the "i" button on the Now Playing screen) allows you to discover even more music via the various music services available on Sonos.
With Sonos ZonePlayers connected wirelessly in the rooms of your
choice and a Sonos Controller for iPhone or iPod touch in hand, you can find and play the music you want by simply picking a room, picking a song and hitting play. You can play the same song in every room in synchronization, or play different songs in every room.
Sonos' system lets users quickly link and unlink rooms, without interrupting music playback. You can select, play, pause, and skip music in any room. You can search for your favorite artists and songs by typing on the touch screen. You can browse your collection by pointing and flicking and change the volume in a single room, or in all your rooms at once, all from the Sonos Controller for iPhone.
The software alsp offers direct access to a world of music including Last.fm, Napster, Pandora, Rhapsody, SIRIUS Internet Radio, 15,000 plus radio stations, shows and more.
a
Sonos doesn't require you to have your computer on or a piece of server software on the network to play music all over the home. The Sonos Controller for iPhone requires an iPhone or iPod touch and at least one Sonos ZonePlayer ZP90 Add-On Player
to operate, using your existing home WiFi network to communicate to the Sonos BU250 Multiroom Music System
.